The great Aussie summer seaside campsite— will we ever see its like again?
The campsite on the coastal headland has a vivid scene of canvas architectural wonders. But something this year, apart from the bushfires' shadow, changed.
For many years every summer I'd marvel at the pitched awnings, sturdy guy ropes and weatherproofed coverings which would put an old-time circus to shame.
These were not just tents; they were temporary egalitarian palaces erected by families who'd been coming to their sacred spots on the great Australian coast for generations.
Where possible, they hung onto the same coveted sites. The same trailer load of well-worn equipment. The same unwritten grand designs to obtain maximum protection from the predictable heavy rains.
But this time as I wandered past the sprawling summer settlement, the camp furniture looked different. It may have been gradually changing for years and I just hadn't noticed.
Perhaps the damned bushfires which had so scorched this area on the NSW South Coast just 12 months ago, and to which there's been such remarkable regrowth, have opened up vistas and changed perspectives.
There's the same enviable stoic resilience of those getting back to nature 'under canvas' and forgoing the creature comforts of bug-free living and endless devices and screens.
But areas of the campsite once so dominated by the tarps of the bush's magnificent marquees have been replaced by a new generation of lighter weight, small space and much lower effort pop-up tents and what's jauntily called gazebos.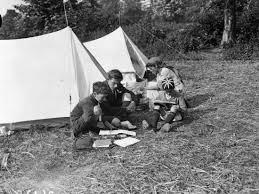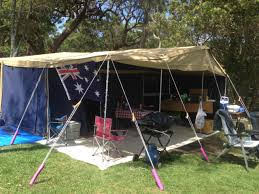 Then & now: the evolution of tent camping. Photo credits: Christopher Zinn, Jess Muscat.
Their bright colours and brands compete with the King Parrots' scarlet heads and the flashes of yellow from the swooping and ever shrill sulphur-crested cockatoos. They stand out in a way the drab modest greens and khakis of well-worn shelters never intended to.
The new generation of tents and the endless accessories are all designed to make life easier, comfier, and for some more like home. They might be more expensive than the old-school systems but are much cheaper than owning or renting a beach house.
The kitchen area with its shiny stoves and chilling boxes are sophisticated, as are the folding table and chairs. Some campers even bring portable toilets with discrete en-suite tents. No more sharing facilities after a long trudge in the middle of the night.
There are, of course, a few old-style structures still standing. Like their proud builders, they're showing their age but seem confident they can withstand anything the storms might throw.
There seems no stopping the creep of campervans and desirable large, airy tents adorned by even larger gazebos which owners hope will keep the wet and cold elements at bay.
This year the weather was calm and glorious, so I saw none face the test. The number of families with space to store, know-how to pitch and determination to lug trailer loads of poles and tarps and pegs may well be declining.
But as I return to this favourite spot, every January, I shall stop and marvel at every such site and the skill, sweat and pride invested in some people's homes away from home.
It's an undervalued slice of the great Australian seaside summer, and for one I will mourn the gradual passing of the monuments of the Aussie bush marquee.

Any information is general advice, it does not take into account your individual circumstances, objectives, financial situation or needs.