What if it's not just a well-subsidised parliament house where there's a problem?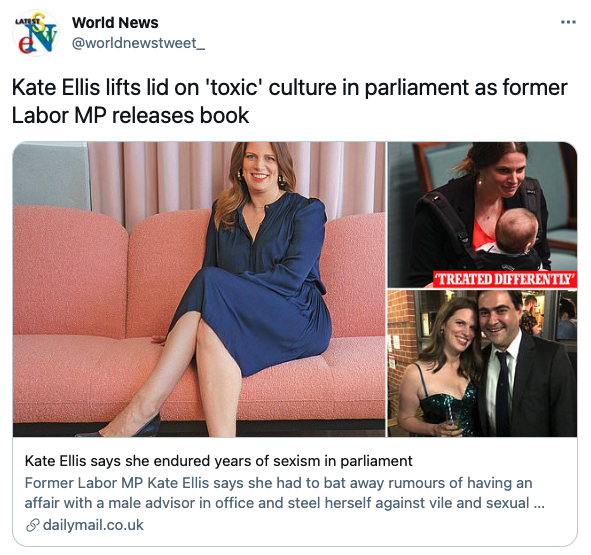 There's been understandable outrage at what's been going on at parliament house for far too long. Some of it behind closed doors and too much, according to a new book, unashamedly in plain sight.
Much of the excess is blamed on a toxic politicised culture that is bankrolled with generous pay and conditions by the public (that's us). So surely we're entitled to ask more than just questions.
Another week and yet more revelations of workplace abuse in Canberra, which you'd hope wouldn't be as widespread elsewhere around Australia.
Former pollie Kate Ellis's book Sex Lies and Question Time outlines the appalling sledging and innuendos used against female MPs not just in corridors but also in the chambers themselves.
Given the singular focus there's been on parliament house of late, which plays into the joint's self-centeredness, expect word of more toe-curling and possibly illegal activities to arise.
And we can expect that other workplaces, such as the armed forces, will discover more of their dirty laundry is aired in public.
The diminishing public trust in politics and the increasingly large subsidies paid by taxpayers for the institution of parliament house means what happens there remains important.
In a place where laws are made, it's fair enough that there are codes and standards of reasonable, understood, and enforced behaviour.
Anyone who has worked in the public service, or much of corporate Australia of late, will know the time and effort now devoted by HR departments into the compliance of such matters.
So what on earth has gone on in Canberra? Many experts of the armchair and other varieties will doubtless have their say, but I was interested over the weekend by a theory put by an outsider.
A senior foreign diplomat, who has long experience of the Westminster system in various nations, told my contact that politics here was simply tougher and dirtier than in other countries.
Blame poor recent leadership, the erosion of support for major parties and the growth of minor ones or even our colourful convict history, but whatever the cause, he says, we have a nasty political culture.
It's a challenging condition to measure or even compare, but whatever the cause, there seems something rotten we need to fix. In finding any remedies, we'll have to decide if this rot is unique to Canberra or further spread amidst our body politic and perhaps beyond?
What do you think? Is the current torrent of allegations and condemnation justifiably aimed at parliament house, or is this singular focus on Canberra distracting us from a more widely spread malaise?


Any information is general advice, it does not take into account your individual circumstances, objectives, financial situation or needs.