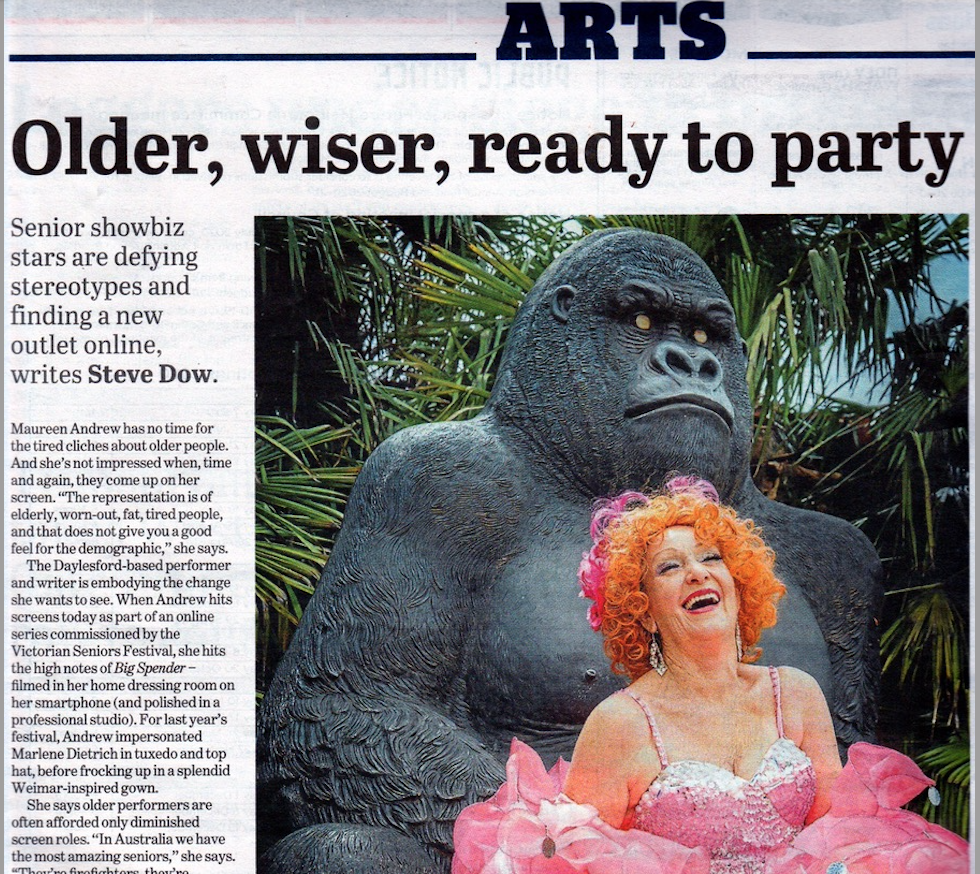 Meet the Newest Subject in Our 'A-Team' Series on Modern Ageing: Maureen Andrew
Maureen Andrew, aged 71, is a performer and so much more from Daylesford in regional Victoria who believes: "We all deserve to be applauded, not stuffed in the cupboard"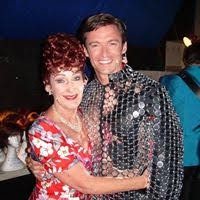 "I have had - and still have - the maddest life. 50 years of film, stage and TV. Still writing and performing Cabaret shows, in between chopping down trees and building up the substantial Veggie patch. I am constantly frustrated by the world's attitude toward ageing (especially for women), and whilst I respect that there are many seniors who struggle into old age there are also many of us who are vital, energetic, and still have a lot to say and do. Even I don't believe all the things I have done in my life."

"It's not just talking about myself but sharing the reality that there are many of us who do not fit into the grey hair, rounded-body stereotype, probably because we are lucky, but maybe it is genetic, or perhaps just a willingness to look after ourselves as best we can.

"For the past few years - especially now that I am 71 - I would turn up to commercial/TV auditions wearing my grey wig, padded bra, thickened waist line but truthfully, I am so sick of endeavouring to conform to a stereotype that is set in the past."

What inspires you?

"I grew up in an era where every family member household had a piano. I miss it so much. Such fun, laughter, messing around, standing on my father's feet and holding his hands whilst he spun me around the room. Nowadays we watch YouTube, or log in to our phones."

Who inspires you?

"
Marlene Dietrich, Shirley Bassey, Judy Garland, Liza, probably a lot of the characters I tend to do tribute shows for. Women who were survivors and who were naturally beautiful and exotic in that era.

"The redheads I was named after - Maureen O'Hara, Maureen O'Sullivan. Knowing that there were female entertainers who were more than just their beauty.

"The English actors and actresses, like Judy Dench, who haven't given in to the 'plastic' era, whose eyebrows still move, and whose eyes and faces register and share the true emotion as they tell their stories.

"The lady who lives down the road who is 94 and when I pull over to the side of the road because I see that she is dragging a fallen branch to ask if she needs a hand, I tell her that I want to be just like her 'when I grow up' and we laugh together.

"All the women who have worked and toiled through wars and disadvantages and literally 'kept the home fires burning'."

What's your advice for older people?


"So many of us still think we are 18 on the inside. I get so bored with advertisements directed only to the elderly exterior, because I know so often that they do not engage the real us.

"I want to form a group, not for knitting or cooking (I'm already extremely competent at that), but just to misbehave, wear our hair longer, be grey or coloured, put on nail polish and lipstick, and not feel that we have to apologise for it. We should be able to take back our joy of life and let it shine out, especially while we are still able to do it."

Do you practise what you preach?

"I think the photos tell the story. I am very lucky, or was it my choice, to have kept my health, still be around the same size, and definitely the same weight for many years, but it isn't all about that.

"Personally, as a performer, I have always pushed against what society dictates to me that I should be. I still have weights in the lounge room, and exercise while I am watching TV. I was a gym manager, dance teacher, yoga instructor, pilates coach, so I have a lot of knowledge to sustain me.

"I have a huge back yard and garden so spend hours outside, chop my wood with an axe (for the fireplace), build up the garden beds for the veggies, do most of the house maintenance, but mostly just love doing all my Cabaret shows and entertaining my own generation.

"I know when I am doing my shows, especially if it is someone as outrageous and gorgeous as Bette Midler, the laughter spills across the stage, and the audience hangs around after for chats. What more could one want?

"We, the older generation, who were always quiet about our achievements because it was bad manners to blow one's own horn, should now be allowed to remind ourselves who we were and what we did, and give ourselves a big round of applause for making it this far.

"Maybe we could organise a ROUND OF APPLAUSE day? We seem to memorialise so many sad occasions that we forget that we are, finally, in control of our own joy and we should now be allowed to express it and not apologise for expressing it."

Finally, what can we all do to help each other?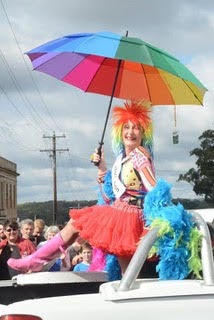 "Make a list in your mind of all the fun, wonderful things you did in your lifetime, get a group together, share it, and then give a big, unapologetic, noisy, round of applause to everyone.

"Send someone a letter, make a phone call, say Hi to your neighbour, and be proud of all that you are and were and can still be. Society will not change its attitude to us until we change our own attitude toward ourselves.

"I recently sent off my resume for a couple of job applications. I had to explain to people why they were so long, why I had done so many different jobs, and why I have so many diverse skills. Yeah me.

"But I also have so many unalterable negatives. I am a female, I am over 70, I do not have any degrees, and I am most certainly not financially secure.

"So I can either surrender to those negatives or strive to make some new positives and in the striving of it all, make someone take notice of how faaaaabulooooous I am and have a laugh along the way. Or not.. Whatever… I am so lucky I can sing and still wear high heels. Woo Hoo!"
Any information is general advice, it does not take into account your individual circumstances, objectives, financial situation or needs.