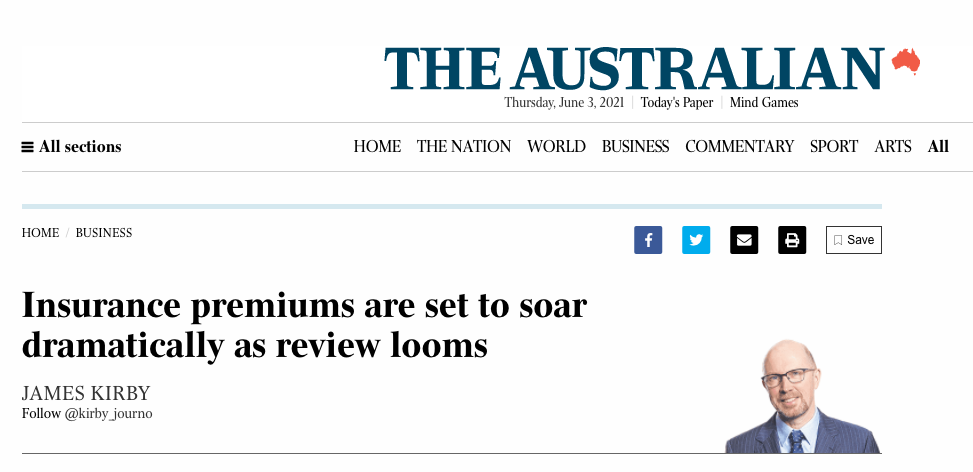 Price Hike Alert on Life, TPD & Income Protection Insurance
There have been red flags flying on the life insurance front, especially about premium hikes.
The current main concern is premium costs going up, and there are several reasons.
Xavier O'Halloran, director of the consumer group for superannuation Super Consumers Australia, says there have been hikes of between 13%-20% for life cover bought inside superannuation.
He says one reason is regulatory reform which saw such cover for younger people, who don't often need life insurance, turned into an opt-in from an opt-out product.
It means consumers have to actively choose cover as opposed to being unknowingly tipped into it. However, fewer contributions to the insurance pool mean higher premiums.
Xavier on ABC Radio Sydney (listen here at the 2hrs 57min mark) also said rule changes had reduced the incidence of multiple super accounts, perhaps unnecessarily paying multiple life insurance policies.
In another area, I recently got this warning from my financial planner that the insurance regulator has told insurers they can no longer cross-subsidise less profitable services with more profitable offerings.
"We are now seeing huge premium increases from all insurers of between 25% and 104%. These are extremely substantial increases, and hence we ask you to keep an eye on any emails from your insurance providers," said the letter from my planner.
Put simply, life insurance and TPD, which generate better margins for the insurers, can no longer be used to reduce the premiums of income protection and trauma cover.
FiftyUp's resident expert Ian Town says the APRA changes are non-COVID-related and, as they are driven by concerns about the sustainability of certain insurers, they are not particularly consumer-friendly changes.
"The cross-subsidy issue certainly can increase premiums, but it should be on a company-by-company basis with some more affected than others," he says.

"What will happen is that there will probably be a reduction in Year 1 discount offers, which have often been used in products like Income Protection to get people on board. These, in turn, can cause a large apparent increase in Year 2 premiums which could approach some of the extreme levels being talking about."
In summary, the specific changes to IP policies are substantial and will affect the future attractiveness of IP cover, so be forewarned.
As stated, given the complexity of the products and the variety of personal circumstances and needs, it's tricky to go into much more detail.
Seek advice from your life insurer, super fund or adviser if you have cover and if considering life insurance, bear in mind the changes.
Above all, check your email and letters from your insurer and super fund or ask questions.


Any information is general advice, it does not take into account your individual circumstances, objectives, financial situation or needs.
Originally posted on .