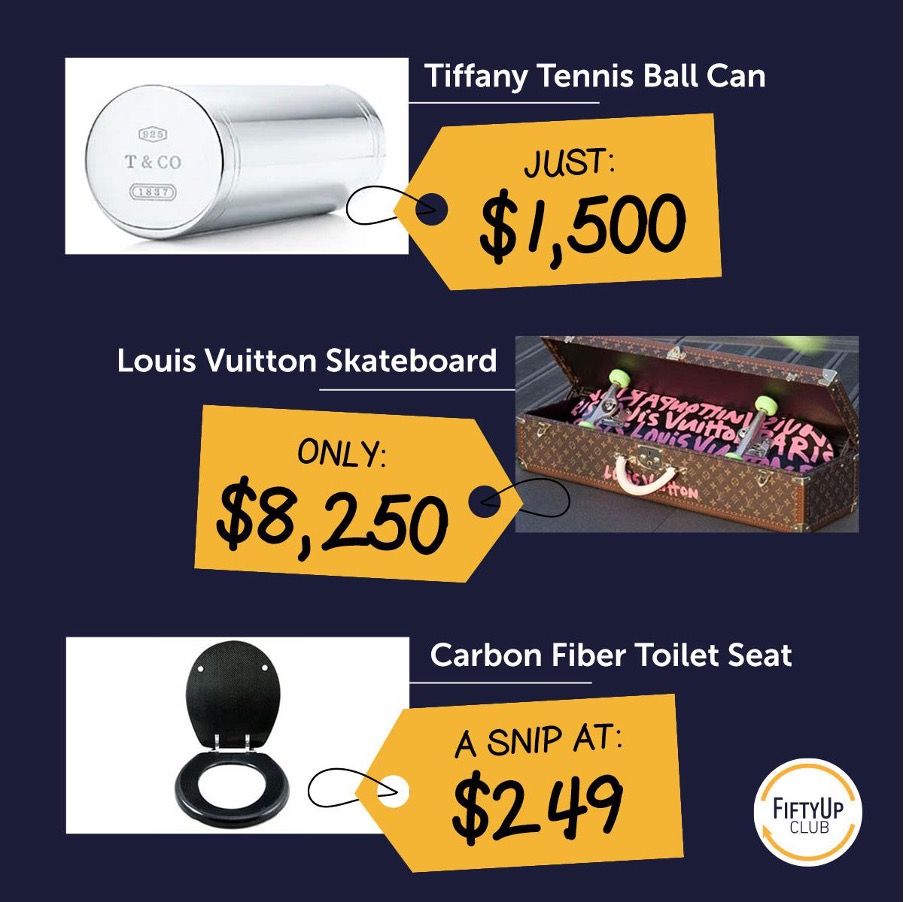 WHAT'S THE MOST RIDICULOUS PRICE HIKE YOU'VE SEEN LATELY?
The rich are known for their willingness to pay ridiculous prices to show everyone else they are indeed very well off.

Fancy a Tiffany tennis ball can for just $1500, that Louis Vuitton skateboard - only $8,250 - or a carbon fibre toilet seat a snip at $249?

But now it seems prices are going through the roof for almost everything: meat, new cars, hire cars, building materials, labour, fruit and veg, meals out, flights and rent.
And the excuses pile up even more quickly: COVID disruption, the Ukraine war, the flood, the petrol price spike, you name it.
A doozy spotted in the paper this week - a coffee shop owner in rural Orange NSW explained higher freight costs meant an extra 50c on each cappuccino.
But what recent price rise has caused a spike in your blood pressure? And what really got your goat? Was it the size of the increase or the lack of any explanation or justification?
I was going to hire a car to get around Melbourne on business this week, but at $200 a day, including all the costs, I'll stick with taxis and Uber.
My wife is looking for a late model second-hand car, after a hoon wrote off the last one, but realises she may as well buy a new one if she can find one in stock.
I'm grateful we got our front fence replaced before the worst of the COVID disruption to building supplies and skilled labour. It cost a bit more then but nothing like it would now.
And I pity restaurateurs struggling to gently pass on higher menu prices with far higher food and other costs and paying more for appropriate workers.
The Consumer Price Index (CPI) measures Australia's current inflation rate at 3.5 per cent in the 12 months to the December 2021 quarter - new data is due today. But as we've discussed before, the index can be an underestimate, especially with mortgage rates about to climb too.
So is there a price you are not prepared to pay? I thought I'd never shell out $2.25 for a litre of petrol, but I did, and gratefully when there were fears it could go up even more.
How about $6-7 for a coffee? Would you cut down or just cut it out?
And what are the items you would pay almost anything for? A cold beer on a hot summer's day for $10-12, $30 pizza and even a $25 cinema ticket are already out there if you are willing to pay.
The best advice is that higher prices continue to rise and are here to stay. The government, whoever they are, frankly can't do much whatever they say, so what are you going to do?
Originally posted on .