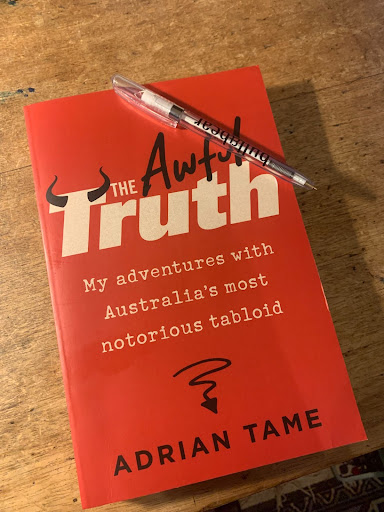 The Truth Behind The Lost Art Of Being Irreverent - or is everything sacred?
It's the most memorable and outrageous job I ever had in journalism, and some days I and maybe readers miss it too.
Those of a particular vintage and geography will recall Melbourne's Truth newspaper, a salacious tabloid that closed in 1993.
It titillated both the highest and lowest of that righteous city's citizenry for ninety years with a saucy mix of scandal, horse-racing tips, and bedroom advice.
The often-drunken reporters, who spent much more time in pubs than in front of keyboards, also unearthed significant scoops involving police and political corruption.
To my tired eyes, now too much of the press appears frankly dull, righteous and run to keep wowsers (the very sort of killjoys Truth fought so hard to offend) smug and content.
What do you think? Have the times become too puritanical and self-righteous for the likes of the Truth ever to show its shameful face again?
Have we traded away our once-legendary Aussie irreverence and, instead of acting as if nothing is sacred pretending that everything is?
My own Truth contributions during a fecund few months in the 1980s included "I got pregnant in the back of a cop car" and "Hippies plan fertility orgy under Halley's Comet."
Some stories, such as the famous "Killer Roo" front page, which went around the world, owed more to the imagination than investigation.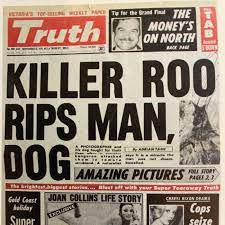 But what I loved about the so-called "Old Whore of La Trobe Street" was she was both reckless and fearless in reporting 'truths' no other media dared touch.
The "Snedden died on the job" splash in 1987 is a classic after former Liberal leader Sir Billy Snedden was found dead in a Sydney motel while enjoying a 'romp'.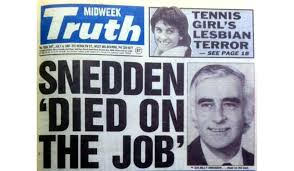 Please read reporter Adrian Tame's book of his adventures in Australia's most notorious tabloid called The Awful Truth to find out more scandal. It is hilarious and should be compulsory reading for every wannabe reporter.
Since then, I have worked on more respectable outlets, including the Mudgee Guardian, The UK Guardian and the ABC, but none have rendered so many happy and grateful memories.
I miss The Truth. Some may claim there are now online versions, but in the anything-goes internet, I'll wager few have the bare-faced cheek to match her headline for headline.
Did you ever feature in The Truth, and can you share the fallout or any yellowing clippings?

Originally posted on .