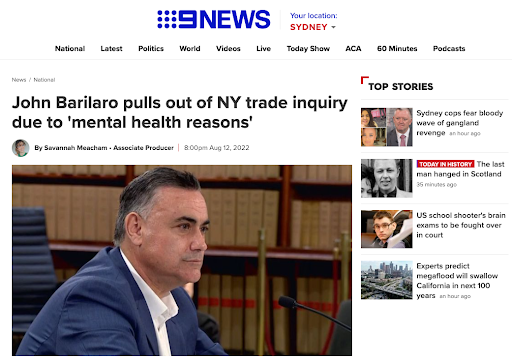 Barilaro - a pollie with his snout in a trough of his own making? Or a victim?
Source: 9News

The phrase more fun than a barrel full of monkeys has some irony in the latest "snouts in the trough" saga to paralyse the NSW parliament.
The surname Barilaro in Italian refers to the proud tradition and occupational name for a cooper or maker of barrels and, funnily enough, wooden troughs.
But the besieged former deputy premier John Barilaro cannot be having much fun being ridiculed and copping it - literally from both barrels - in a classic job-for-the-boys scandal.
The finer details are contested, but the one-time National leader quit politics in December 2021 and hey presto, by June, he was appointed as the state's trade commissioner in New York.
Forget the inconvenient fact that a highly qualified woman had already been offered the $500,000 per annum gig.
What's your favourite Australian political scandal, and do you believe the perpetrators paid the price or got away with it?
There's a rich field from which to choose.
The Barilaro stink has been rising for almost two months, sparked two inquiries, caused the former trade minister's resignation and severely damaged NSW premier Dominic Perrottet.
The biggest joke is it has all happened in the state before, which has a long and celebrated history of nepotism or corruption (read more here if you can bear it), and only last year lost premier Gladys Berejiklian.
Her fall from grace was due to misplaced faith in a shonky MP with whom she enjoyed many a secret Rendez Vous.
The government she led was also considering reinstating the dormant but very plum post of the London Agent General; a role abolished in 1993 after an expenses scandal.
In that case, a former Liberal minister Neil Pickard got the quasi-diplomatic job as a sweetener for losing his seat in a redistribution. He lost it through indiscreet and excessive spending on the public purse.
You can nudge your memory with a list of mainly federal scandals here, and yes - monkeys may well come to mind.
I'm interested to know what FiftyUps think about this latest scandal. Do you share the outrage? Or have you just come to expect self-interest to trump public interest when it comes to some pollies?

Originally posted on .