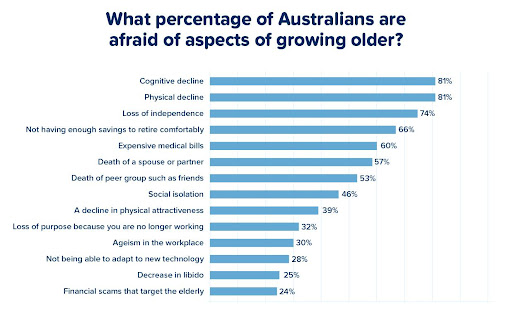 Do you suffer from F.O.G.O.?
Here's another dreaded acronym to add to the alphabet soup of trends, and what's worse, you may suffer from the condition.
It's called 'FOGO', or Fear Of Growing Old. According to a national survey by CareSide, a home care provider, we are in the grips of anxiety and worse when asked to rate the various impacts of ageing.
The leading frights are cognitive and physical decline, a loss of independence and insufficient funds to retire comfortably.
Funnily enough, the lowest ranked dreads include a decrease in libido, scamsters targeting the aged, and loss of work through difficulty adapting to new technologies.
Death, which some might feel would be the greatest fear of growing old, is roughly in the middle.
I'd shift a few of the findings around, but the top three of decline and loss of independence are pretty hard to beat. What keeps you awake at night about ageing, and is it comparable to the list above?
Thank goodness there are some aspects of getting on in life that those surveyed do look forward to, and they mainly have to do with having more time.
When the same survey asked what people were most excited about as they grew older, the results were naturally cheery. Having more time featured predominantly.
More time for family, friends and travel, perhaps essentially though not having to work.
The survey authors highlight one of the paradoxes affecting many of us, which they call the inverse relationship between health and time as we age.
"In general, people have better health when they are younger but less free time. When they're elderly, they typically have more free time for leisure but declining health and energy."
It's just one reason it's a good idea to invest in your health all through life, especially as you are getting on in years.
What are you most excited about as you grow older? I'd say it's to stay enthusiastic and open to life and ensure the body, mind, and spirit stay up to the job for as long as possible.
Any information contained in this communication is general advice, it does not take into account your individual circumstances, objectives, financial situation or needs.
Originally posted on .