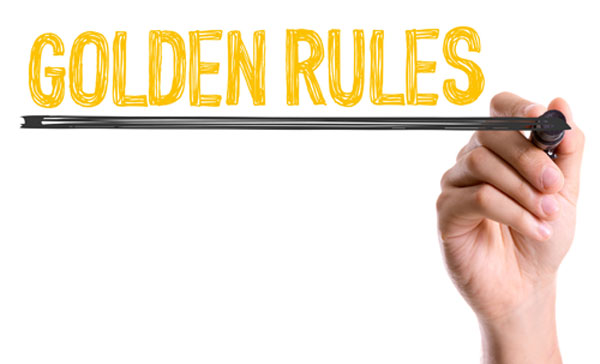 10 Golden Rules of Private Health Insurance
While the real Golden Rule is treating others as one's self would wish to be treated. Here are the 10 Golden Rules of Private Health Insurance.
Read any and all letters or written information from your health fund
Your health fund will communicate to you changes in your cover., like the April 1 premium increase. It will send a letter (or email if you've opted for paperless communication), and tell you of any changes, if you need to make a decision relating to your policy, if there is a premium increase and a tax statement as well.
Let your health fund know about any changes in your circumstances that might affect your cover
This includes but is not limited to:
current contact details

change of address if you move

travelling overseas

changes to your family circumstances like a loved one passing away

change of bank details
Ask your doctor for an estimate of fees before receiving treatment
This will assist in preventing "sticker" shock when you get the hospital bill and it will let you you know exactly what you are paying for. Make sure to ask:




What are the Medicare item numbers for the services

What will be the charge for each of these services




Does the doctor participate in my health fund's gap cover scheme

Will the doctor treat me under the gap cover scheme




Will I incur any personal out-of-pocket costs

How much can I expect to have to pay




Who are the other doctors treating me

How can I get an estimate of their fees




Will the doctor provide me with a written estimate of any costs




How will the doctor bill me




When will I have to pay
Contact your fund before receiving treatment or entering hospital
While you might not be able to do this in case of an emergency, you should be able to call your fund before having any treatment or going into the hospital. When you give them a call, remember to ask:
What benefits it will pay

How much you're like to have to pay

Ask them to confirm the above in writing

Ask them if they have an agreement with your chosen hospital
Know your limits
We're talking about your personal limits, but the limits of your extras. Extras such as dental and optical services have limit to claims by some providers. Ask your fund for details about your benefits.
Promptly make claims
If you wait, you may have to pay the bill in full and then claim a refund. There are some services your hospital, doctor or general treatment provider can claim your health fund benefit and deduct it from your bill. Claiming sooner than later reduces the risk of losing receipts and you'll get your refund sooner than later.
Make a note of any advice given
Don't rely on your memory. If you speak to your fund by phone, write down notes with date, time, reference number provided and ask your health fund staff to provide you written confirmation.
Review your health insurance
Things can change in your life and with your health fund. Make sure you review your health fund each year.
Keep your premium payments up to date
If you have a policy that hasn't been kept up to date, you risk the chance of losing any health coverage. While you can pay weekly, fortnightly, monthly, quarterly and so on. If you pay a year in advance, you know you're set for 365 days and you can avoid the April 1 premium increase.
If you are switching health funds, make sure you understand the new product
You can switch to a different health funds without serving waiting periods if you switch to the same level of cover and you've served the appropriate waiting period with your original cover, but always make sure you read all the documents you receive from the fund you choose to understand everything.
Any advice contained in this article is general in nature and does not take account of your particular objectives, personal circumstances or needs. If in doubt about your own situation you should seek appropriate advice.
Originally posted on .