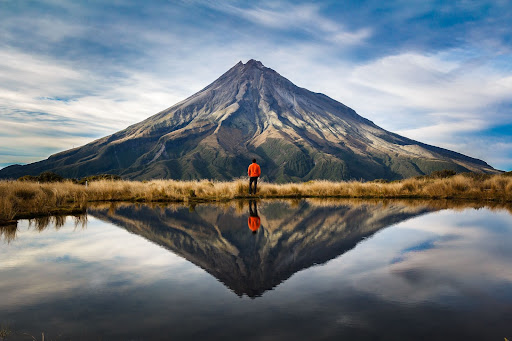 The deadliest destinations for Australian travellers
"Travel insurance is as important as a passport". Do you agree?

The government advice is unambiguous about overseas travel insurance, and for once, I agree with every jot: if you can't afford insurance, you can't afford to travel.
"Travel insurance is as important as a passport. Without it, you or your family could suffer financially if things go wrong. No matter who you are, where you're going and what you're doing, get insurance," says the Smart traveller website.
There is no end to the horror stories of young people without insurance who, due to misadventure, die overseas. Their families are then forced to use crowdfunding to repatriate their remains.
I was pondering NOT taking out travel insurance for a quick visit to NZ - after all, nothing can go wrong there, and we have a reciprocal health arrangement.
But even a quick flick through the Department of Foreign Affairs Consular State of Play report has changed all that.
In raw figures, it's the dehumanised statistics of everything that went wrong for Australians on overseas trips. More than 15,000 needed consular assistance, and 1,300 died.
According to the report, which covered the financial year 2020-21 and hence was impacted by COVID, some 38% of travellers were aged 45+, numbering 128,000.
The five countries with the highest number of Australian deaths range from Thailand with 226 to the USA with 48. The Philippines, with 163 dead, features highly in many of the stats.



Travel insurance, of course, doesn't stop tragedies or assaults, accidents or illness from occurring, but it does make it easier to pick up the pieces afterwards.
One risk highlighted in the report is more than half of those travelling O/S might be underinsured as, not surprisingly, they did not read the fine print on their policies (who does or can?)
The report says 95% of travellers plan to take out insurance suggesting more than five per cent do not bother at their peril.
Number two of the top ten travel tips is to get comprehensive travel insurance with the warning some countries insist on it to allow entry. (See the other tips on the infographic below)
Smart traveller lists the following nations which won't let you in without a proper policy. They include Cuba, Turkey, the Czech Republic, Estonia, Latvia, Lithuania, the United Arab Emirates (UAE) and Qatar, not to mention some cruise liners. So check!
The tips below might seem like common sense, but for whatever reason, you might be surprised how many people fail to observe them. Don't be one of them.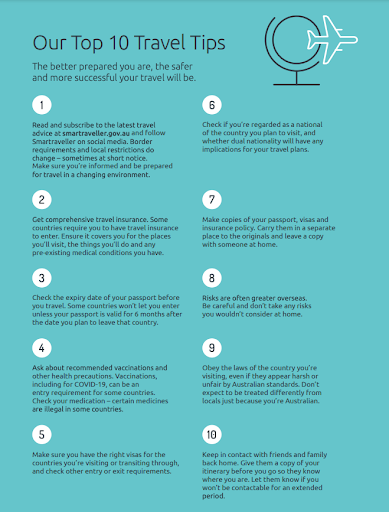 Travel insurance does come at a cost, but given the very high cost of airfares, accommodation, car hire etc., I'd wager it should hardly be a deal breaker for most budgets.

There I have just paid for ten days of cover in NZ for three adults, and including an extra $25 for a pre-existing condition, it's come to $221. I hope it's not necessary but it's affordable for us for peace of mind.

How about you? Do you never leave Australia without insurance, or have you taken the risk?

Any information contained in this communication is general advice, it does not take into account your individual circumstances, objectives, financial situation or needs.
Originally posted on .